CHRIS FUNK'S REDEFINING WONDER Thursday, March 9, 2023 at 7:00 PM PST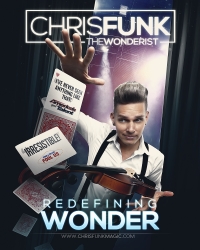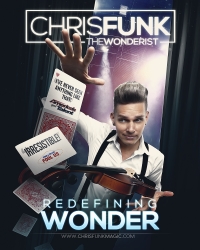 You've selected
Thursday, March 9, 2023 at 7:00 PM PST
×
Chris Funk's REDEFINING WONDER is an engaging and visceral multimedia experience that has audiences talking and scratching their heads for years to come.
Finally, a MAGIC SHOW WITH LIVE MUSIC! Chris has pioneered the use of instruments like the violin, guitar, flute and more into his illusions. His parents wanted him to be a musician, but he wanted to be a magician. Chris tells his story on how he integrated his love for music and magic in a show unlike any other. Whether it's a violin concerto to a magical dancing sheet of music to impossibly suspending various instruments on stage, his show is in a league of its own. The live-feed camera and interactive videos bring audiences up onstage and into the action, delivering a show that family audiences can call their own.
AMERICA'S GOT TALENT - SIMON COWELL: "BEST MAGICIAN we've had on the show so far! I've NEVER seen anything like that!"
Adult: $40.00
Child 14 and Under: $10.00
Family Pack: (2 Adults, 2 Children): $80.00 (Please call the box office at 604 - 984 - 4484 to purchase the Family Pack)
This event is RESERVED SEATING.
If you would like to book accessible seating, please contact the box office at 604 - 984 - 4484.
Venue
Centennial Theatre
2300 Lonsdale Avenue
North Vancouver BC V7M 3L1
Performance Notes
Presented by the Centennial Theatre.