4TH GENERATION OPERATOR Sunday, May 7, 2023 at 8:00 PM PDT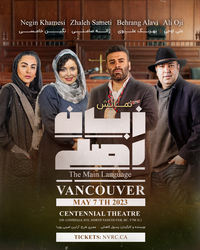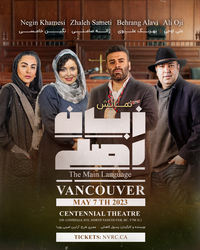 You've selected
Sunday, May 7, 2023 at 8:00 PM PDT
×
4th Generation Operator
For the very first time in Vancouver!
Featuring Hanieh Tavasoli, Azadeh Samadi, Behrang Alavi, Yousef Teymouri, Negin Khamesi.
Zone 1, Seats in Rows A - E Center Section: $145.00
Zone 2, Seats in Rows A - E Sides, F - J Center Section: $125.00
Zone 3, Seats in Rows F - J Sides, K - N Center Section: $110.00
Zone 4, Seats in Rows K - N Sides, O - R Center Section: $95.00
Zone 5, Seats in Rows O - R Sides, S - V Center Section: $75.00
Zone 6, Seats in Rows S - X Sides, W - X Center Section: $60.00
Suitable for ages 5 and up.
This play will be presented in Farsi.
This event is RESERVED SEATING.
Venue
Centennial Theatre
2300 Lonsdale Avenue
North Vancouver BC V7M 3L1
Performance Notes
Presented by Artamodo Entertainment Inc.