FLEETWOOD MAGIC Friday, November 3, 2023 at 7:30 PM PDT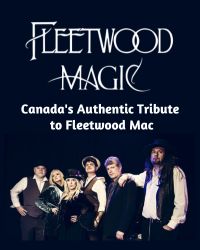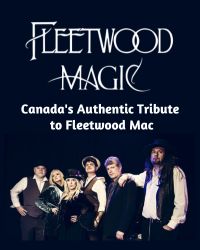 You've selected
Friday, November 3, 2023 at 7:30 PM PDT
×
Fleetwood Magic transports audiences in sound and time on a musical journey that spans the self-titled White Album, Rumours, Mirage, Tusk, Tango in the Night, and Then Play On albums. They perform their greatest hits authentically to represent the sound, personae, and mystique of this most famous line-up of Fleetwood Mac.
With their vintage costumes, exacting vocals, period-correct instrument sounds, and on-stage character, Fleetwood Magic vividly reminds audiences of all ages what made "The Mac" legendary.
Experiencing timeless classics like "Rhiannon," "Dreams," "You Make Loving Fun," "Say You Love Me," "The Chain," "Go Your Own Way," listeners have come to realize the rumours are true - Fleetwood Magic does indeed deliver the magic!
A convincing mirage is created by the powerful vocalist, Diane Warren ("Stevie Nicks"), the distinctive virtuosic signature guitar licks of Mike Luno ("Lindsay Buckingham"), the silky lead and harmony vocals and keyboard playing of Layla Vaugeois ("the late, great, Christine McVie"), the iconic groove, and madman-drummer personality of Glenn Regnier ("Mick Fleetwood"), the whip-smart bass guitar artistry of Dave Kalancha ("John McVie"), and the ambient sound and keyboard wizardry of Jeff Garrett.
Fleetwood Magic continues to play sold out shows to thousands of Fleetwood Mac fans throughout the Vancouver Lower Mainland and Western Canada! Fleetwood Mac is one of the world's most popular and iconic groups of the 70's and 80's and has earned their place in the rock and roll hall of fame as one of the biggest classic rock bands on the planet!
For more information about Fleetwood Magic, please visit www.fleetwoodmagic.ca.
One Admission: $52.50
This event is GENERAL SEATING.
Venue
Centennial Theatre
2300 Lonsdale Avenue
North Vancouver BC V7M 3L1
Performance Notes
Presented by Fleetwood Magic.
×
This is a general seating performance - the seats are on a first come, first serve basis when you arrive at the venue.
Doors open 1/2 hour prior to start of performance.