THE LAND OF GIANTS Thursday, October 19, 2023 at 7:30 PM PDT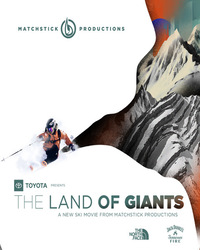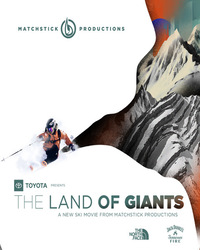 You've selected
Thursday, October 19, 2023 at 7:30 PM PDT
×
"If I have seen further, it is by standing on the shoulders of giants." -Isaac Newton
The story of man vs. mountain is one that has captured our imaginations for centuries. But what if MSP flipped the script? What if, instead of focusing on the human element, we took a closer look at the mountains themselves?
That's the premise of The Land of Giants, a new ski film that explores the most iconic mountains on Earth. From the Fjords of Norway to the spines of Alaska, we will get to know and understand the canvas that creates the most mind-melting moments in skiing. But most importantly, we'll come to appreciate their sheer beauty and power. Captured with revolutionary cinematography combined with genre bending music, The Land of Giants is not to be missed.
The Land of Giants features the best skiers in the world, skiing unbelievable conditions and riding to the very edge and beyond. It's a celebration of the natural world, and a reminder of the power of the human spirit. It's a film that will leave you awestruck, inspired, and humbled.
Join us on this journey into The Land of Giants.
The crew at Matchstick filmed in the most iconic and beautiful ranges skiers dream of. Our "Cast" of mountains are:
Smoky Range, ID Chilkat Range, AK Niseko Range, Japan Sierra Mountain Range, CA Lyngen Alps, Norway Wasatch Range, UT Fitzsimmons Range, BC Kitimat Range, BC
The Land of Giants Cast of athletes features the best skiers the sport has to offer, from all over the globe: Mark Abma Sammy Carlson Logan Pehota Tonje Kvivik Nikolai Schirmer Caite Zeliff McKenna Peterson John Collinson Colby Stevenson Janelle Yip Sam Kuch Ari Tricomi Karl Fostvedt Coline Ballet-Baz Craig Murray Emily Childs Dennis Ranalter Xander Guldman Hedvig Wessel Lucy Sackbauer Stinius Skjøtskift Gen Sasaki Sam Cohen and Marcus Goguen
Film Sponsors:
Presented By Toyota with The North Face Jack Daniels Tennessee Fire Film Tour Sponsors: Arcteryx Atomic Stanley-PMI Sun Valley Resort Visit Sun Valley NEH Pomoca
---
One Admission: $23.00
VIP: $43.50 Special VIP tickets include premium seating and awesome gift packages from our partners. VIP tickets available while supplies last.
This event is GENERAL SEATING.
If you would like to book accessible seating, please contact the box office at 604 - 984 - 4484.
Venue
Centennial Theatre
2300 Lonsdale Avenue
North Vancouver BC V7M 3L1
Performance Notes
Presented by Matchstick Productions.
×
This is a general seating performance - the seats are on a first come, first serve basis when you arrive at the venue.
Doors open 1/2 hour prior to start of performance.