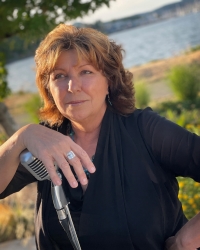 JOELLE RABU IN CONCERT
When
Occurs on Friday January 27 2023
Approximate running time: 1 hour and 45 minutes
Venue
Event Notes
×
Joelle Rabu & Nico Rhodes are a dynamic mother and son duo that create magic on stage. As one critic summed it up so well: "Rabu is Edith Piaf, Bette Midler, and Carol Burnett all rolled into one extraordinary performer. Her passion-filled voice is spine-tingling and her stage presence electric." "Nico Rhodes' musical ability is nothing short of stunning with breathtakingly fresh sounds and style radiating from this young musician whose hands effortlessly fly across a keyboard leaving us in utter amazement and jumping to our feet at the end of a solo!"
One Admission: $40.00
This event is RESERVED SEATING.
If you would like to book accessible seating, please contact the box office at 604 - 984 - 4484.