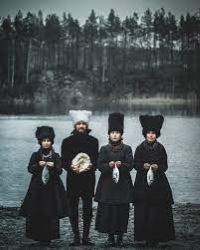 DAKHABRAKHA
When
Occurs on Saturday March 18 2023
Approximate running time: 1 hour and 20 minutes
Venue
Event Notes
×
Caravan World Rhythms presents
DAKHABRAKHA North American Tour for Ukraine
"With their otherworldly singing and self-described ethno-chaos sounds, this Ukrainian quartet mesmerized for a magical 90 minutes, while adding messages of peace and solidarity. A truly remarkable experience." — Star Tribune
Reflecting fundamental elements of sound and soul, DakhaBrakha (which means "give/take" in the old Ukrainian language) creates a world of unexpected new music. The group was created in 2004 at the Kyiv Center of Contemporary Art by the avant-garde theatre director, Vladyslav Troitskyi, whose theatre work has left its mark on the band's performances. Accompanied by Indian, Arabic, African, and Australian traditional instrumentation, the quartet's astonishingly powerful vocal range, beautifully intricate traditional attire, and theatrical flair come together to craft an unforgettable musical experience rooted in Ukrainian culture.
ARTIST WEBSITE: http://www.dakhabrakha.com.ua/eng/title
INSTAGRAM: https://www.instagram.com/dakhabrakha/
Ticket Zones:
Zone 1: Row A & Rows B - H Seats 7 - 29.
Zone 2: Rows B - H Seats 3 - 6, 30 - 36, & Rows J - U.
Zone 3: Rows V, W, and X.
Prices:
Zone 1:
One Admission $80.00
Zone 2:
Adult:$60.00
Student with ID: $55.00
Child 12 and Under: $40.00
Zone 3:
Adult: $50.00
Student with ID: $45.00
Child 12 and Under: $30.00
All prices are inclusive of taxes and fees.
This event is RESERVED SEATING.
If you would like to book accessible seating, please contact the box office at 604 - 984 - 4484.