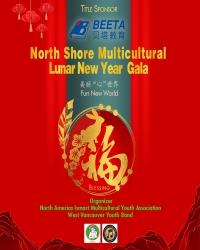 NORTH SHORE MULTICULTURAL
When
Occurs on Saturday January 28 2023
Approximate running time: 2 hours
Venue
Event Notes
×
The 2023 North Shore Multicultural Lunar New Year Festival Gala is jointly hosted by the Ismart Morning Star Multicultural Youth Association of North America and the oldest community band in Canada with a history of 93 years: the West Vancouver Youth Band. It will be held in the Centennial Theatre on the North Shore and will welcome more than 600 people from the Greater Vancouver area to enjoy a multicultural and beautiful performance to celebrate the Spring Festival.
This year's event will incorporate multicultural and artistic features, not only showcasing the demeanor of the Chinese, but also highlighting the characteristics of multiple ethnic cultures and local cultures. It is an exchange and display of Chinese and Western culture and art.
The festival is a stage for cohesion, sharing, art exchange and giving back to the community. With the intention of giving back to community, all ticket proceeds will be donated to North Shore Lions Gate Hospital and West Vancouver Youth Band.
The event received strong support from governments at three levels, major associations, and people from all walks of life.
2023 北岸多元文化春节慈善晚会 — " 美丽"心"世界 Fun New World "
活动介绍
2023年北岸多元文化慈善春晚由北美Ismart启明星多元文化青少年协会和已有93年历史的加拿大历史最悠久的社区乐队:西温青少年乐队联合主办,在北岸最大的百年剧院举行,将迎来北岸及大温地区600多位观众一起欣赏一台多元文化美轮美奂的精彩演出,欢度春节。 本届2023北岸多元文化春晚将融入多元文化艺术特色,不仅展现华人风采,更凸显多个民族文化和本地文化特色,是中西文化艺术的交流和展现。
北岸多元文化慈善春晚是凝心聚力,共度节日的舞台,也是交流艺术,回馈社区的舞台,将继续坚持慈善公益之路,所有票款收益将捐赠给北岸狮门医院及西温青少年乐队,活动得到三级政府、各大社团及社会各界人士的大力支持。
晚会时间:2023年1月28日 晚6点30分 晚会地点:北温世纪剧院 2300 Lonsdale Ave, North Vancouver, BC V7M 3L1
晚会票价:VIP 88,50,35,25
Seats in Center Section, Row A - B, G - L: $50.00
Seats in Side Section A - T & Center Section Row M - T: $35.00
Seats in Row U - X: $25.00
This event is RESERVED SEATING.
If you would like to book accessible seating, please contact the box office at 604 - 984 - 4484.