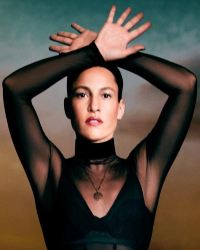 CARMINHO - THE VOICE OF FADO
When
Occurs on Sunday October 15 2023
Approximate running time: 2 hours
Venue
Event Notes
×
Caravan World Rhythms presents
Direct from Portugal
CARMINHO The Voice of Fado
Carminho is one of the greatest fado singers today and an internationally acclaimed Portuguese artist. She is considered the most talented and original fado singer of her generation, whose art covers both the traditional and contemporary fado. Carminho's repertoire also shows the influence of Portuguese traditional and Brazilian popular music.
Daughter of the renowned fado singer Teresa Siqueira, Carminho was born in the middle of guitars and fado voices, having marked her debut singing in public at the age of twelve, at Coliseu dos Recreios (Lisbon). Early on she was tempted to record albums but decided to wait.
As a young adult, Carminho felt that singing fado required a maturity and life experience she didn't yet have. For a year, after finishing University studies, she travelled the world, participating in humanitarian missions and returns to Lisbon determined to give herself entirely to an artistic career.
"Fado", her first album, is released in 2009. Reaches platinum (an enviable result for a debut), received the distinction of best album of 2011 from the British magazine "Songlines", performed at Womex 2011 (Copenhagen) and at UNESCO's Paris headquarters as part of Fado's application for world heritage status.
In 2012, she released her second album, entitled "ALMA". After touring the main venues in Europe and the World, she fulfilled her dream of recording with Milton Nascimento, Chico Buarque and Nana Caymmi, which resulted in a reissue of "Alma" with three new songs. Carminho began to conquer Brazil with sold-out concerts. The affirmation as the most international of Portuguese artists is consummate and distinguished in Portugal with a Golden Globe and the Carlos Paredes Award, seeing both her albums reach the double platinum mark.
"Canto" is released in late 2014 and her relationship with Brazil takes even deeper roots, with the first partnership of Caetano Veloso with his youngest son Tom. This very strong relationship with Brazil reaches one of its most consistent moments already in 2016, following an invitation from the family of António Carlos Jobim and records "Carminho canta Tom Jobim".
"Maria" is the title that Carminho chose for the fifth recording of her career, an exciting album that assimilates everything that Carminho learned directly from her fado roots, respecting the truth of the words and the traditional language, but at the same time with a free and contemporary look at the world that inspires her.
Her musical journey so far has revealed Carminho as an artist that makes strict and well-considered decisions, never forgets her roots and, while continuing the centuries-old musical tradition of fado, is nevertheless relevant and relatable to the generation of today.
MORE INFO, visit: www.caravanbc.com
Seat in Row A - E: $80.00
Seat in Row F - O: $60.00
Seat in Row P - U: $50.00
Seat in Row V - X: $35.00
Suitable for ages 6 and up.
This event is RESERVED SEATING.
If you would like to book accessible seating, please contac the box office at 604 - 984 - 4484.