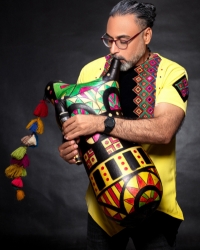 LIAN MUSIC
When
Occurs on Sunday November 19 2023
Approximate running time: 1 hour and 30 minutes
Venue
Event Notes
×
Lian Music started its folklore music activities in the south of Iran under the supervision of MOHSEN SHARIFIAN in Boushehr in 1993. The group has ever since been producing Folklore Boushehrian music. Now, This group has outstanding records as the most popular and prestigious folklore music band in Iran.
Seat in Rows A & B: $120.00
Seat in Rows C - E: $100.00
Seat in Rows F - J: $90.00
Seat in Rows K - O: $80.00
Seat in Rows P - S: $70.00
Seat in Rows T - X: $60.00
This event is RESERVED SEATING.
If you would like to book accessible seating, please contact the box office at 604 - 984 - 4484.