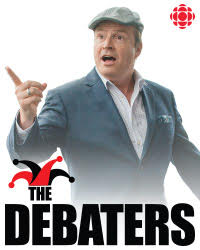 CBC'S THE DEBATERS
When
Runs from Wednesday February 7 2024 to Wednesday February 7 2024
Approximate running time: 2 hours and 45 minutes
Venue
Event Notes
×
Enjoying its 18th season on CBC Radio One, The Debaters is the hit show where comics go toe-to-toe in a battle of laughs and logic. Hosted by Steve Patterson, international headliner and two-time winner of Canada's Best Male Stand-Up. The Debaters is a combustible mix of sharply crafted comedic rants and hilarious ad-libs. The engaging format is part stand-up, part quiz show and part comedy competition with the live audience picking the winners.
Each show will feature five unique debates. It will be taped for radio.
Adult: $49.00
Senior 65+: $44.00
Student with ID: $44.00
Child 12 & Under: $44.00
This event is RESERVED SEATING.
If you would like to book accessible seating, please contact our box office at 604 - 984 - 4484.